Sabine, o del femminile in azione.
"La mia donna" (My woman), cellphone holder, 2018. .
Such is the name given to Sabine's latest creation.
Certainly a coincidence… one rich in meanings.
Unraveled meanings, preserved perhaps in the work that over all these years Sabine has braided into her daily life and that manifests in the world in many, diverse ways.
That which she takes from the world, she gives back to the world, sometimes by means of daring syntheses, like a sea-segment hanging from the ceiling that forces you to admire it by just looking up, like a gentle prayer not to ever give up on what's wondrous or on the daring endeavour to change points of view.
She inhabits spaces with all her senses agape. She approaches matter with respect and discretion, ready to register the slightest vital heartbeat in order to entwine it into her own life and give it back conjugated in categories of beauty, or in order to push onward until she crosses the borders of what is useful.
Wide-awake attention inhabits her gaze, capable of picking up the minutest detail, and that accuracy moves her hands to lay on the object that portion of her life that reveals creative élan and translates into a new story-telling for the careful, curious listener.
Sabine, or female-ness in action – female-ness inhabiting the world to make it a home unto itself, but especially for others; female-ness materializing as a lap that cradles a host of souls and transforms places into gentle laps for generations of forms and shapes that come forward thanks to the most diverse and impalpable types of matter.
Our wish is that she may never stop telling stories, whatever stories. We await her voice, grateful for the stories unveiled before our eyes.
Maria Grazia D'Amico
Gestalt psychologist-counsellor
Experiences
1993 Apprenticeship in a Valencia goldsmith workshop.
1993 Coordinated image for Stark srl, Cagli
1994 P.H. Lindner invitation to the exhibit in Prato, Vanni Schweiwiller Catalogue
1995 Apprenticeship at a Sassuolo ceramics business
1995 Coordinated image, "Casale Torre del Sasso", Cagli
1995 Graphic design, three music CDs: "Essential", Jaques Brel, Serge Gainsbourg, Tom Waits, Harmony Music
1997 Touring Club Italiano, Marche Botteghe, arts and métiers
1999 Graphic design, "Le valli del tartufo", Catria and Nerone Mountain Community
1999 Sea ceramics for Gabriele Solusti, architect
2000 Ceramics props for Rai 2's "Sospetti" tv series, directed by Luigi Perelli
2001 Graphic design for Caseus magazine, bi-monthly magazine on cheese art and culture
2001 Graphic design for the book "Il marketing del banco formaggi", Anfosc
2001 Graphic design for the book "I formaggi d'alpeggio e loro tracciabilità", Anfosc
2004 Graphic design for a book by Paolo Buroni
2004 Creation of Paolo Buroni's website (www.paoloburoni.com)
2008 Interior design, Stark srl offices, Cagli
2013 Creation of Silva Lindner's website (www.silva-lindner.eu)
2017 Creation of the catalogue "Pierre H. Lindner, Una vita per l'arte – 1967-2017" (226 pages)
2017 Design for an exhibit in Manzoni's home,
Exhibits
1996 Montebelluna
1996 Town hall, Cagli
1997 Kleine Gallerie Klinikum, Goettingen, Germany
1997 "Labirinti creativi", Casale Torre del Sasso, Cagli, Pesaro
2018 Viareggio, Versilia Yachting Rendez-vous, My Vintageacademy
About her
14.5.1984 Amateur film competition, Villa Ponti, Varese (as interpreter), La Prealpina del Lunedì
5.8.1984 "Frattini" pupils, from Guttuso
27.12.1996 Sabine, Castellonesto's golden hands, Mario Carnali, Il Resto del Carlino
1.2.1997 Ceramica che fa storia (Ceramics that make history), Mario Carnali, Il Resto del Carlino
25.6.1997 Pesaro, amore mio, Roberto Damiani, Il Resto del Carlino
2.7.1997 Keramikmalerei, Blick
30.7.1997 "Twin sisters" thanks to ceramics, Mario Carnali, Il Resto del Carlino
6.8.1997 Keramikmalerei auf Toskana-Erde, Hinzmann, Blick
1997 Tele2000, interview
15.10.1999 Valli del Tartufo consortium presented in Castello Brancaleoni, Il Resto del Carlino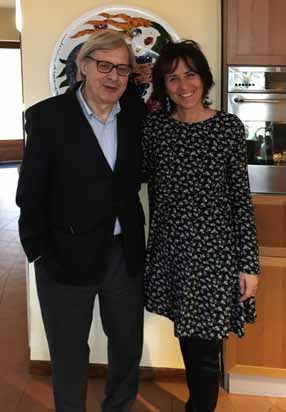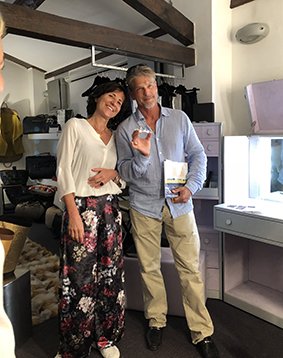 2018 Con Clayton Norcross